7Artisans 60mm f/2.8 Macro lens announced for APS-c mirrorless cameras. The new mirrorless lens will be available for Sony E, Canon EF-M, Fuji X and MFT mounts.
Portrait-length manual focus prime lens is designed for APS-C-format mirrorless cameras and provides a Micro Four Thirds 91mm equivalent focal length.
7Artisans lenses are sold at: AmazonUS | AmazonUK | AmazonDE | eBayUS.
Bright f/2.8 maximum aperture balances a compact design with lens speed for working in difficult lighting conditions and controlling depth of field. Ideal for macro shooting, this lens offers a minimum focusing distance of 65mm to suit working with close-up subjects. More details about the 7Artisans 60mm f/2.8 Macro lens can be found below.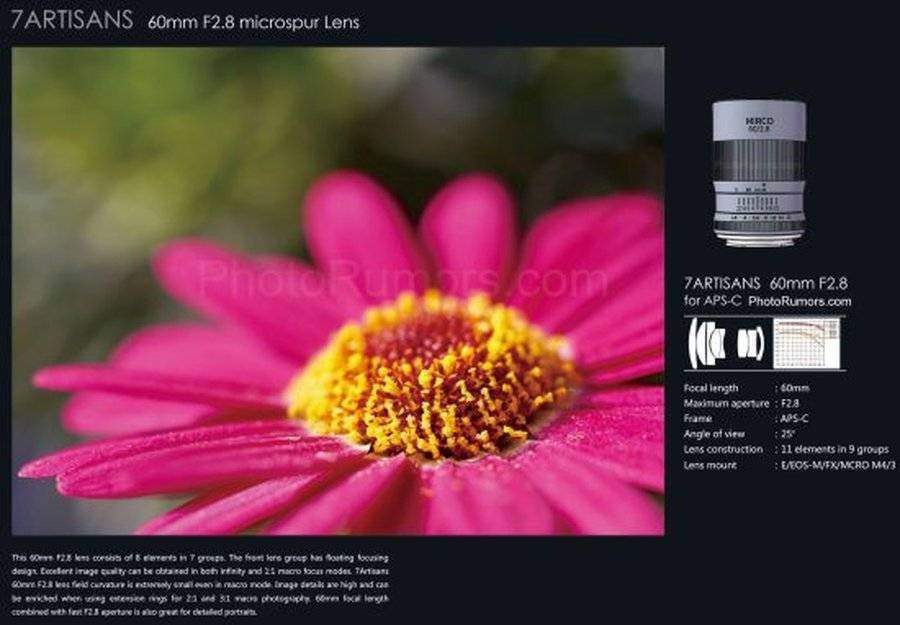 7Artisans 60mm f/2.8 1:1 Macro lens has now been announced.
Seven designers 7 Artisans 60 mm F 2.8 Macro (Sony E / Canon EF – M / Fuji Film X / Micro Four Thirds)
Scheduled to be released in May 2019
Manufacturer's preferred price ¥ 25,000 (excluding tax)
7Artisans 60mm f/2.8 Macro is a "60mm macro lens" designed for "APS – C size" mirrorless camera that can shoot from closeup to infinity. It can be captured without disturbing from remote places such as insects and small animals, so it is suitable for shooting subjects that are difficult to close close-up.
The focus part is sharp, blurred is beautiful, and the whole is depicted richly in gradation. Ultra close-up shooting up to 5 times magnification is possible by installing an optional extension tube.