Best Sony A6500 Bundles and Deals ! The Alpha A6500 is the top of the class Sony mirrorless camera packed with tons of great features. We've got all the best cheap Sony A6500 deals right here .
Read this before buying any camera bundle:
Most bundles only look good because they come with a ton of items. The majority won't work, or are useless.
You may see something like "5 extra lenses", when in reality those 5 lenses are nothing but cheap close-up filters.
These are common tricks. As a beginner you probably think you're getting a great deal and many stores that make them know that.
Don't just buy any bundle that looks awesome at first, you might actually be paying more than you would buying the items separately.
This is why we wrote this guide, to filter out the bad deals and save you the trouble.
We checked out everything available, and selected the 2 best A6500 deals that give you the most for your money.
Best Sony A6500 Bundles:
1. Sony A6500 Bundle – Check the price here
2. Sony A6500 Bundle – Check the price here

The links take you to Amazon and their support and prices are great. If you decide to buy anything after clicking on our Amazon links, you also help us automatically as we receive a small commission. It's what allows us to write the guides on our website.
Sony A6500 – Bundle 1
What's included:
Sony A6500 Body
Transcend 64GB Class 10 Memory Card
Extra NP-FW50 Battery + Charger
Cleaning Kit
Camera Bag
+ 5 more
What we like: This bundle costs as much as the A6500 body only, so all accessories are free.
What we don't like:  The memory card may not be the best for 4K video recording (at least longer clips).
You get a spare battery, which is a must with many mirrorless cameras if you plan doing some long photo shoots or trips.
You can buy it at Amazon.
Sony A6500 – Bundle 2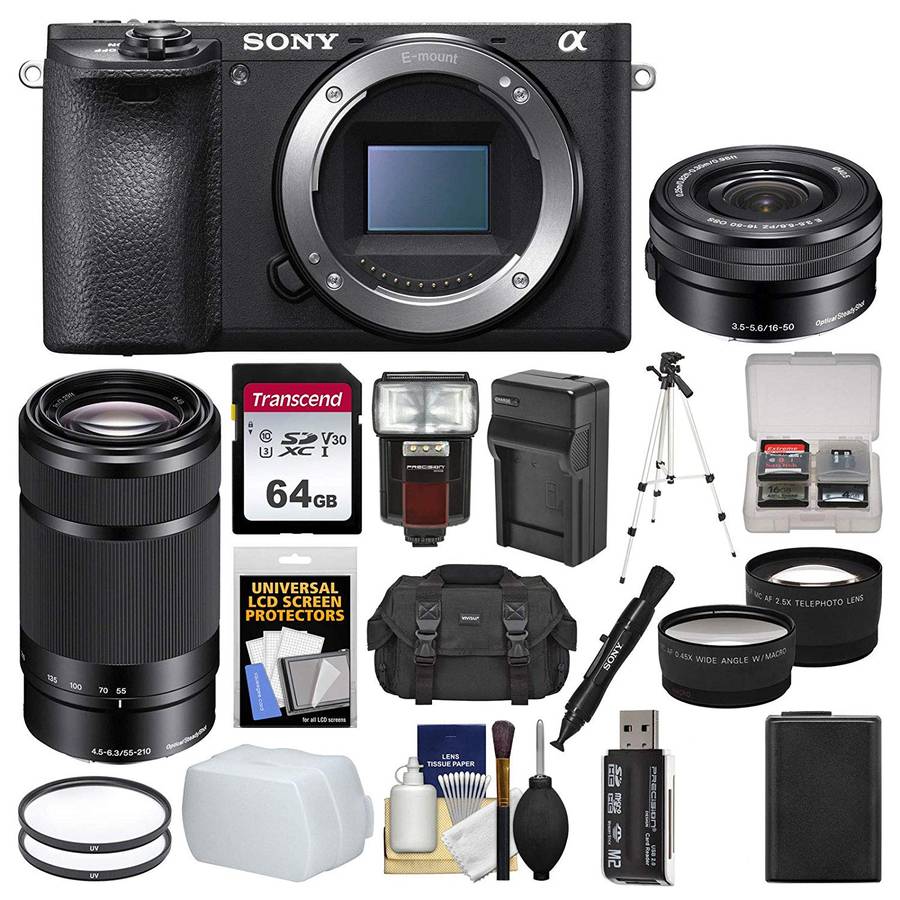 What's included:
Sony A6500 Body
Sony 16-50mm f/3.5-5.6 OSS
Sony 55-210mm f/4.5-6.3 OSS
Transcend 64GB Class 10 Memory Card
Cleaning Gear
+ 79 more items
What we like: All the extra accessories are free. The two lenses are a great combo that cover all different ranges, there's a bag and much more.
What we don't like: Mediocre flash, filters attached are useless so don't use them. Same memory card, so not the best option for long 4K videos.
If you know you'd like the Sony 55-210mm, buying it now in this bundle will save you around $200 compared to buying it separately later.
You can buy it at Amazon.
What Type of Accessories To Look For?
Lenses. Having a good camera is important, but good lenses affect your image quality much more. Don't buy a cheap zoom, especially on the telephoto end. More specifically, stay away from the 75-300mm lenses, or anything that reaches 300mm under $200.
Memory Cards. The more megapixels, the bigger your memory card should be. The Sony A6500 has 24 megapixels which is a lot, so don't go under 16GB if you often travel or shoot events. The minimum speed is Class 10, while our top pick for almost all DSLRs is the SanDisk 64GB 95MB/s for less than $40.
Tripods. Most tripods in bundles are straight garbage. They might look cool and all, but they're not sturdy for a DSLR with a lens. Technically speaking they are, but you're constantly risking your entire gear, especially if shooting outside in wind.
Bags. A free bag is always good to have. Sometimes you want something that can carry it all, but other times you just want something that's super small and light. Whatever you get is perfectly fine.
Cleaning kits. Having cloths, air blowers and cleaning kits is always a big plus. Just blow some air onto the front lens element instead of touching it with your fingers (not recommended).
Flash. So far, we haven't seen a flash in any camera bundle that we'd like, which is a bit disappointing.
Stay with us on Facebook, Twitter, RSS feed to get more news, rumors, reviews and deals. Read more Sony Mirrorless news and Sony Rumors here.
Also join the Sony Camera Users Facebook Group to share your Sony photography.