DJI Osmo Action DJI's first dedicated action 4K camera announced.
DJI Osmo Action 4K Camera  offers 4K, 60fps video recording, dual screens, with both a rear and a front screen built-in, as well as "state of the art" electronic image stabilisation, which DJI are calling "RockSteady". The camera has a 12mp 1/2.3inch sensor, and is waterproof, shockproof, dustproof, as well as freezeproof.
The GoPro killer DJI Osmo Action camera price is $349 which is $50 cheaper than GoPro HERO7 Black. You can buy from B&H Photo Video/Adorama.
DJI Osmo Action 4K Camera Key Features
12mp 1/2.3inch CMOS sensor
2.25inch rear touch-screen
1.4inch front screen
4K video at 60fps, 100mbps
4K, 30fps HDR video
FullHD slow-motion video, 240fps
93 minutes of recording time (4K, 30fps, RockSteady on)
Wi-Fi and Bluetooth built-in
Full press text can be found here.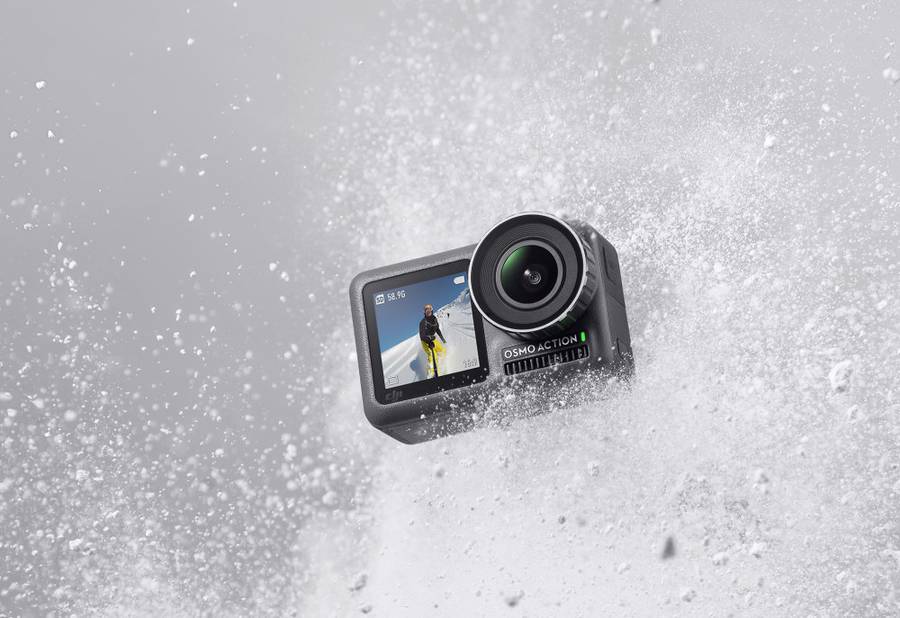 DJI Osmo Action 4K Camera Key Features
Compact action camera with 1/2.3″ CMOS sensor and wide f/2.8 lens that records up to 4K60p video and 12MP photos
Capture up to 12MP raw and JPEG photos; record up to 4K60p or 1080p240 H.264 MOV or MP4 video at up to 100 Mb/s; supports slow-motion, hyperlapse, and time-lapse modes
Crisp 2.25″ touchscreen display on back with 640 x 360 resolution; additional 320 x 320 resolution display on front
Electronic Image Stabilization (EIS) technology for stabilizing footage in standard record modes with 18-22% crop factor; EIS enabled all video modes except in slow-motion, hyperlapse, or time-lapse mode
Slow-motion mode records up to 240 fps; maximum ISO is 3200
Supports High Dynamic Range (HDR) video recording in 4K30p
Lock screen function to prevent accidental touchscreen presses
Dual microphones with noise reduction technology and dual speakers; can input audio with an external microphone using the USB Type-C input
Durable enough to withstand drops from 5′ and can be submerged down to 36′ in water without a case for up to 30 minutes
145° angle of view; narrow and dewarp field-of-view options
Charge to 70% in 30 minutes with a separately available fast-charging adapter
Records to microSD/SDXC/SDHC cards, UHS-I compatible cards with 30 MB/s write speed or higher recommended
Connect with the Mimo app on iOS or Android smartphones using Bluetooth or Wi-Fi
Includes a mounting frame, a USB Type-C cable, a quick release base, a flat adhesive mount, a curved adhesive mount, and a connector screw
DJI Osmo Action Camera Videos