Let's compare the Nikon D780 vs. Nikon D750 DSLR cameras.
Nikon has announced the new Nikon D780 ($2,296.95 – at B&H Photo Video/Adorama/Amazon), an update to the D750, the D780 offers 4K video from the 24mp full-frame sensor, plus other improvements.
Our comparison table below covers all the important specifications of each camera. Below that, we specifically talk about the new improvements and which model is better suited for your needs. Check out the  Nikon D780 vs. Nikon D750 comparison !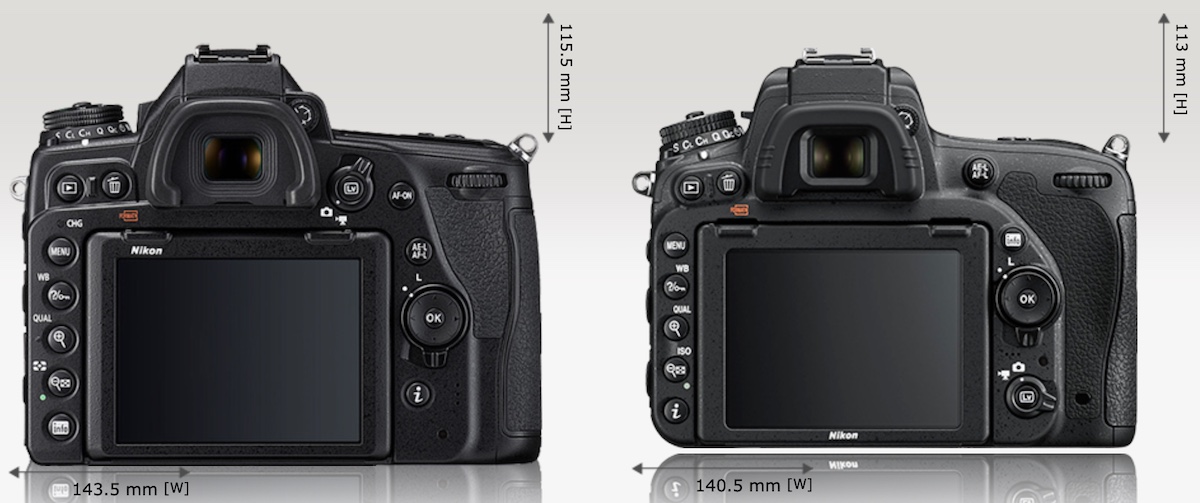 Nikon D780 ($2,296.95)
Nikon D750 ($1,496.95)
Lens Mount

Nikon F bayonet mount

Nikon F bayonet mount

Effective Pixels (Megapixels)
24.5

 million

24.3

 million

Sensor Size
35.9

 mm

x

23.9

 mm

35.9

 mm

x

24

 mm

Image Sensor Format

FX

FX

File Format Still Images

JPEG: JPEG-Baseline compliant with fine (approx 1:4), normal (approx 1:8), or basic (approx 1:16) compression (size priority); Optimal quality compression available

NEF (RAW) + JPEG: single photograph recorded in both NEF (RAW) and JPEG Formats

NEF (RAW): lossless compressed, compressed 12 or 14 bit

JPEG: JPEG-Baseline compliant with fine (approx 1:4), normal (approx 1:8), or basic (approx 1:16) compression (size priority); Optimal quality compression available

NEF (RAW) + JPEG: single photograph recorded in both NEF (RAW) and JPEG Formats

NEF (RAW): lossless compressed, compressed 12 or 14 bit

Storage Media

SD

SDHC (UHS-II compliant)

SDXC (UHS-II compliant)

SD

SDHC

SDXC

Card Slot

2 Secure Digital (SD)

2 Secure Digital (SD)

Viewfinder Frame Coverage

FX (36×24):

100% horizontal and 100% vertical (Approx.)


1.2x (30×20):

97% horizontal and 97% vertical (Approx.)


DX (24×16):

97% horizontal and 97% vertical (Approx.)


FX (36×24):

100% horizontal and 100% vertical (Approx.)


1.2x (30×20):

97% horizontal and 97% vertical (Approx.)


DX (24×16):

97% horizontal and 97% vertical (Approx.)

Viewfinder Magnification
0.7x (50 mm f/1.4 lens at infinity, –1.0m–1)

 (Approx.)

0.7x (50 mm f/1.4 lens at infinity, –1.0m–1)

 (Approx.)

Viewfinder Eyepoint

21mm (-1.0 m¯¹)

21mm (-1.0 m¯¹)

Mirror Lock Up

Yes

Lens Compatibility at a Glance***

AF-S or AF lenses fully compatible

Metering with AI lenses

AF-S or AF lenses fully compatible

Metering with AI lenses

Fastest Shutter Speed
1/8000

 sec.

1/4000

 sec.

Slowest Shutter Speed

900 seconds (15 minutes) (Long exposure M* mode)

30

 sec.

Top Continuous Shooting Speed at Full Resolution
7 frames per second

6.5 frames per second

Exposure Compensation

±5 EV in increments of 1/3 EV or 1/2 EV in P, S, A, M, SCENE, and EFFECTS modes

±5 EV in increments of 1/3 or 1/2 in P, S, A, and M modes

Exposure Bracketing

2 to 5 frames in steps of 2 or 3 EV

2 to 9 frames in steps of 1/3, 1/2, 2/3 or 1 EV

2 to 5 frames in steps of 2 or 3 EV

2 to 9 frames in steps of 1/3, 1/2, 2/3 or 1 EV

Picture Control

Auto

Creative Picture Controls (Dream, Morning, Pop, Sunday, Somber, Dramatic, Silence, Bleached, Melancholic, Pure, Denim, Toy, Sepia, Blue, Red, Pink, Charcoal, Graphite, Binary, Carbon)

Flat

Landscape

Monochrome

Neutral

Portrait

Standard

Vivid

Selected Picture Control can be modified

Storage for custom Picture Controls

Flat

Landscape

Monochrome

Neutral

Portrait

Standard

Vivid

User-customizable Settings

ISO Sensitivity

ISO

100

 –

51,200Can also be set to approx. 0.3, 0.5, 0.7, or 1 EV (ISO 50 equivalent) below ISO 100 or to approx. 0.3, 0.5, 0.7, 1, or 2 EV (ISO 204,800 equivalent) above ISO 51,200; auto ISO sensitivity control available


ISO

100

 –

12,800
Lo-1 (ISO 50)
Hi-1 (ISO 25,600)
Hi-2 (ISO 51,200)

Dynamic AF Mode

Number of AF points: 9, 21, 51 and 51 (3D-tracking)

Number of AF points: 9, 21, 51 and 51 (3D-tracking)

Auto-Area AF Mode

Yes

Yes

Focus Modes

Viewfinder photography: Single-point AF, 9-, 21-, or 51- point dynamic-area AF, 3D-tracking, group-area AF, auto-area AF

Live view: Pinpoint AF (still photography only, single servo AF/AF-S, single-point AF, dynamic-area AF (still photography only, continuous-servo AF/AF-C), wide-area AF (S), wide-area AF (L), auto-area AF

Auto AF-S/AF-C selection (AF-A)

Continuous-servo (AF-C)

Face-Priority AF available in Live View only and D-Movie only

Full-time Servo (AF-A) available in Live View only and D-Movie only

Manual (M) with electronic rangefinder

Normal area AF

Single-servo AF (AF-S)

Wide area AF

Maximum Autofocus Areas/Points
51
51
Built-in Flash

Yes

Flash Bracketing

2 to 5 frames in steps of 2 or 3 EV

2 to 9 frames in steps of 1/3, 1/2, 2/3 or 1 EV

2 to 5 frames in steps of 2 or 3 EV

2 to 9 frames in steps of 1/3, 1/2, 2/3 or 1 EV

Top FP High Speed Sync

Up to 

1/8000

Up to 

1/4000
Flash Sync Modes

Front-curtain sync (normal)

Rear-curtain sync

Red-Eye reduction

Red-Eye reduction with slow sync

Slow sync

Off

Auto

Auto FP High-Speed Sync supported

Auto with red-eye reduction

Auto slow sync

Auto slow sync with red-eye reduction

Fill-flash

Rear-curtain sync

Rear-curtain with slow sync

Red-Eye reduction

Red-Eye reduction with slow sync

Slow sync

Off

Flash Compensation

-3 to +1 EV in increments of 1/3, 1/2 or 1 EV

-3 to +1 EV in increments of 1/3, 1/2 or 1 EV

Nikon Creative Lighting System (CLS)

i-TTL flash control, radio-controlled Advanced Wireless Lighting, optical Advanced Wireless Lighting, modeling illumination, FV lock, Color Information Communication, Auto FP High-Speed Sync, AF-assist for multi-area AF (viewfinder photography), unified flash control

CLS Supported

White Balance

Auto (3 types)

Choose color temperature (2500K–10000K)

Cloudy

Flash

Fluorescent (7 types)

Incandescent

Natural Light Auto

Preset manual (up to 6 values can be stored, spot white balance measurement available during live view)

Shade

All except choose color temperature with fine-tuning

Auto (2 types)

Choose color temperature (2500K–10000K)

Cloudy

Direct Sunlight

Flash

Fluorescent (7 types)

Incandescent

Preset manual (up to 6 values can be stored, spot white balance measurement available during live view)

Shade

White Balance Bracketing

2 to 9 exposures in increments of 1, 2 or 3 EV

2 to 9 exposures in increments of 1, 2 or 3 EV

Live View Shooting

Photography Live View Mode

Movie Live View Mode

Photography Live View Mode

Movie Live View Mode

Movie

4K UHD 3,840×2,160 / 30 fps

4K UHD 3,840×2,160 / 25 fps

4K UHD 3,840×2,160 / 24 fps

Full HD 1,920×1,080 / 120 fps

Full HD 1,920×1,080 / 100 fps

Full HD 1,920×1,080 / 60 fps

Full HD 1,920×1,080 / 50 fps

Full HD 1,920×1,080 / 30 fps

Full HD 1,920×1,080 / 25 fps

Full HD 1,920×1,080 / 24 fps

Slow-motion: Full HD 1,920×1,080 30p (x4)

Slow-motion: Full HD 1,920×1,080 25p (x4)

Slow-motion: Full HD 1,920×1,080 24p (x5)

Actual frame rates for 120p, 100p, 60p, 50p, 30p, 25p, and 24p are 119.88, 100, 59.94, 50, 29.97, 25, and 23.976 fps respectively

Quality selection available at all sizes except 3,840 x 2,160 (when quality is fixed at high) and 1,920 x 1,080 slow-motion (when quality is fixed at normal)

Full HD 1,920×1,080 / 60 fps

Full HD 1,920×1,080 / 50 fps

Full HD 1,920×1,080 / 30 fps

Full HD 1,920×1,080 / 25 fps

Full HD 1,920×1,080 / 24 fps

HD 1,280×720 / 60 fps

HD 1,280×720 / 50 fps

Movie Audio

Built-in stereo or external microphone with attenuator option; sensitivity adjustable

Built-in microphone, stereo

External stereo microphone (optional)

Monitor Size
3.2

 in. diagonal

3.2

 in. diagonal

Monitor Resolution
2,359,000

 Dots

1,229,000

 Dots

Monitor Type

TFT touch-sensitive LCD with 170° viewing angle

Approximately 100% frame coverage, 11-level manual brightness adjustment, and color balance control

Wide Viewing Angle TFT-LCD

Playback Functions

Auto Image Rotation

Full-Frame and Thumbnail (4, 9, or 72 images or calendar)

Highlights

Histogram Display

Index Marking

Location Display

Movie Playback

Movie Slideshow

Photo Information

Photo Slideshow

Picture Rating

Playback with Playback Zoom

Playback Zoom Cropping

Auto Image Rotation

Full-Frame and Thumbnail (4, 9, or 72 images or calendar)

Highlights

Histogram Display

Image Comment

Movie Playback

Movie Slideshow

Playback with Zoom

Slideshow

In-Camera Image Editing

Color Balance

Color Outline

Color Sketch

D-Lighting

Distortion Control

Edit Movie

Filter Effects

Fisheye

Image Overlay

Miniature Effect

Monochrome

NEF (RAW) Processing

Perspective Control

Quick Retouch

Red-Eye Correction

Resize

Selective Color

Side-by-Side Comparison

Straighten

Trim

Color Balance

Color Outline

Color Sketch

D-Lighting

Distortion Control

Edit Movie

Filter Effects

Fisheye

Image Overlay

Miniature Effect

Monochrome

NEF (RAW) Processing

Perspective Control

Quick Retouch

Red-Eye Correction

Resize

Selective Color

Side-by-Side Comparison

Straighten

Trim

GPS

GP-1 GPS unit

GP-1A GPS unit

GP-1 GPS unit

GP-1A GPS unit

Battery / Batteries

EN-EL15b Rechargeable Li-ion Battery

EN-EL15a/EN-EL15 batteries can also be used. Note, however, that fewer pictures may sometimes be taken on a single charge with the EN-EL15 than with an EN-EL15b/EN-EL15a. EH-7P Charging AC adapter can be used to charge EN-EL15b batteries only.

EN-EL15 Lithium-ion Battery

Battery Life (shots per charge)
2,260

 shots (CIPA)

1,230 

shots (CIPA)

AC Adapter

EH-5d/EH-5c/EH-5b AC Adapter; requires EP-5B Power Connector (available separately)

EH-5b AC Adapter; requires EP-5B Power Connector (available separately)

Approx. Dimensions (Width x Height x Depth)
5.7

 in.

143.5

 mm

 x 

4.6

 in.

115.5

 mm

x 

3

 in.

76

 mm

5.6

 in.

140.5

 mm

 x 

4.5

 in.

113

 mm

 x 

3.1

 in.

78

 mm

Approx. Weight
29.7

 oz.

840

 g

camera body only

26.5

 oz.

750

 g

camera body only
Images via Camerasize
---
Pre-order the latest Nikon products here