In addition to the Nikon Z6 sensor review, DxOMark also published the Nikon Z7 sensor review and test results.
According to this, the 45.7MP full-frame BSI CMOS sensor on the Z7 achieved an impressive score of 99 (just 1 point behind the Nikon D850 and Sony a7R III), with a combination of 26.3 bits color depth, 14.6 EV dynamic range, and 2668 ISO low-light score.
DxOMark Sensor Score of 99 Points makes the Nikon Z7 an excellent mirrorless camera for landscape photographers, portrait photography, wedding photographers, and keen amateurs alike.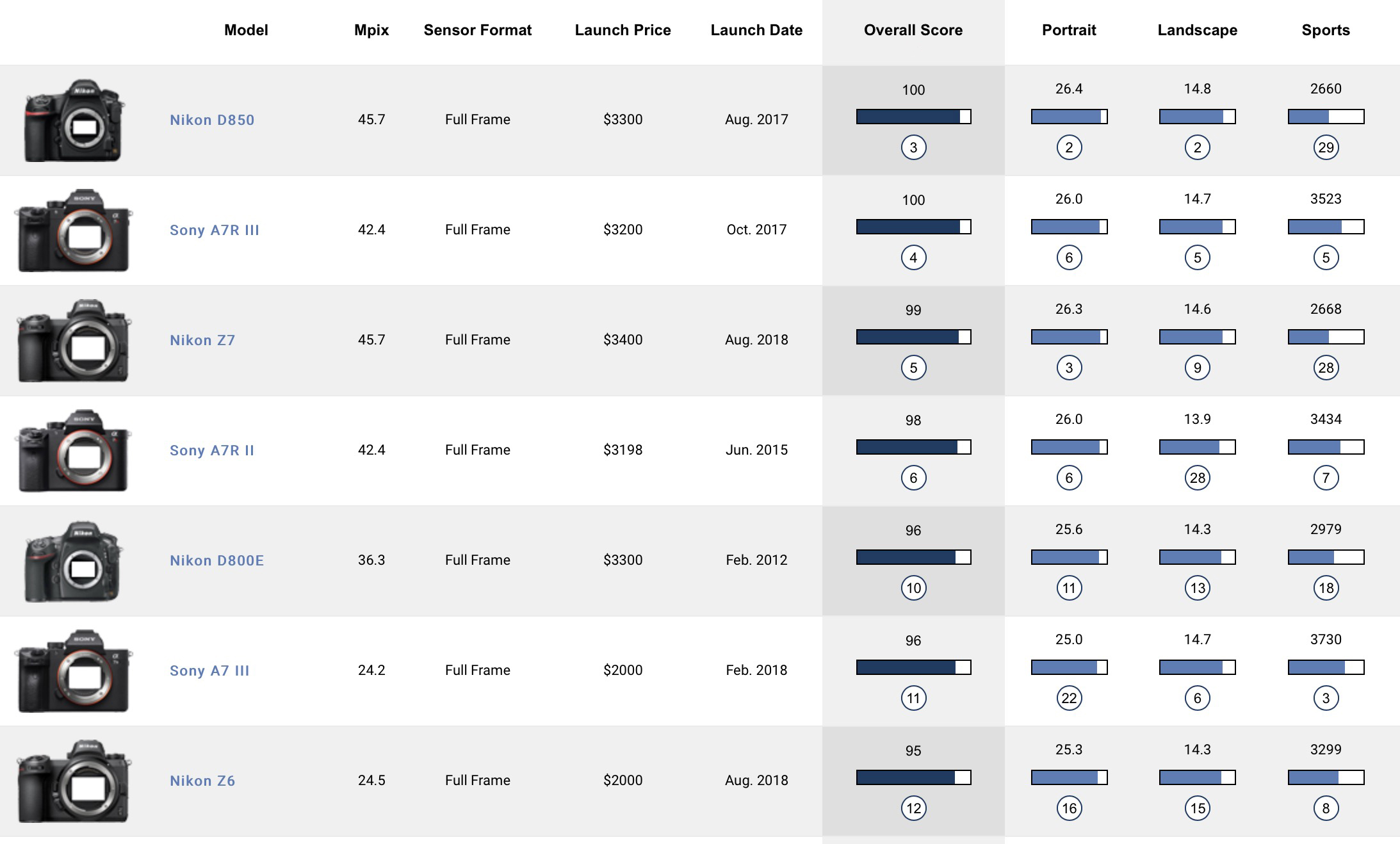 Image quality compared
Because of its pixel count, build quality, and range of features, Nikon has referred to the Z7 as a "mirrorless D850." And our testing bears this out: for the sensor, the Z7 comes very close to the D850, just falling 0.1 bit behind with its (Portrait) color depth score and 0.2EV behind with its (Landscape) dynamic range score. And at 2668 vs. 2660, the Z 7's low-light ISO (Sports) score is effectively the same as the D850's.

As the table below shows, the 45.7MP Nikon Z 7's scores are very close to those of the 42.4MP Sony A7R III. While the Z7 leads for color depth and dynamic range, the A7R III copes better with low light.

Low-light ISO is the one measurement for which the 24MP Nikon Z6 outperforms the Z7, and this is because of the Z6's larger photoreceptors. Conversely, the higher resolution of the Z7 helps it achieve a better score for color depth.
Conclusion from DxOMark:
It's interesting that the Nikon Z 7's sensor produces results that are similar but not identical to the D850's. It's possible that some of the differences can be attributed to the presence of phase-detection autofocus pixels on the imaging sensor.
The Z 7 performs well across the board, and the combination of a high pixel count (which enables it to record a lot of detail) and the sensor's excellent color depth means that it is capable of producing images that are very pleasing to the eye. Factor in the excellent dynamic range, and the Z 7 looks like a good choice of camera for landscape photographers, wedding photographers, and keen amateurs alike.
Stay with us on Facebook, Twitter, RSS feed to get more news, rumors, reviews and deals.  Read more Nikon Rumors.
Join the Nikon Camera Users Group to share your Nikon photography, ask and answer questions that arise and help each others!