Samyang officially announced the two new lenses: MF 14mm f/2.8 Mark II  and    MF 85mm f/1.4 Mark II.
This updated lens has a declickable aperture ring which makes it more suitable for video shooters. and weather sealing. Both lenses cover the full-frame sensor, and will be available for Canon EF, Nikon F, Sony E, Fujifilm X, Canon M, and Micro Four Thirds lens mounts.
The pricing information is not available at the moment. You can check the availability and pricing at B&H and Adorama.
Samyang MF 85mm f/1.4 MK2 Lens:
Meet the most beloved Samyang 14mm manual focus lens in the enhanced usability and product design! Succeeding the acclaimed image quality of original 14mm, the focus lock and de-click function are added to support the freedom of expression at the tip of your finger tips.
Inheriting the renowned Samyang wide angle series, the Samyang MF 14mm F2.8 MK2 is a ultra-wide-angle lens with enhanced usability. It incoperates focus lock and de-click function along with weather sealing and micro-patterned rubber ring. It is an ultra-wide-angle, manual-focus lens with excellent sharpness, even at its maximum aperture. The 115.7 wide angle of view is suitable for shooting landscapes, interiors, etc. and the lens hood effectively blocks unwanted light so you can shoot freely.
De-click Function for Video Filming
When shooting video, it is pivotal to capture the object maintaining the same brightness even when you're changing the aperture. Here is the new feature for filming with MF 85mm. Switch the silver ring from "Click" to "Free", then your aperture is now not stopped at every aperture as cine lenses do. This "Declick" will help you adjust the brightness continuously and smoothly with much more details between the F stops.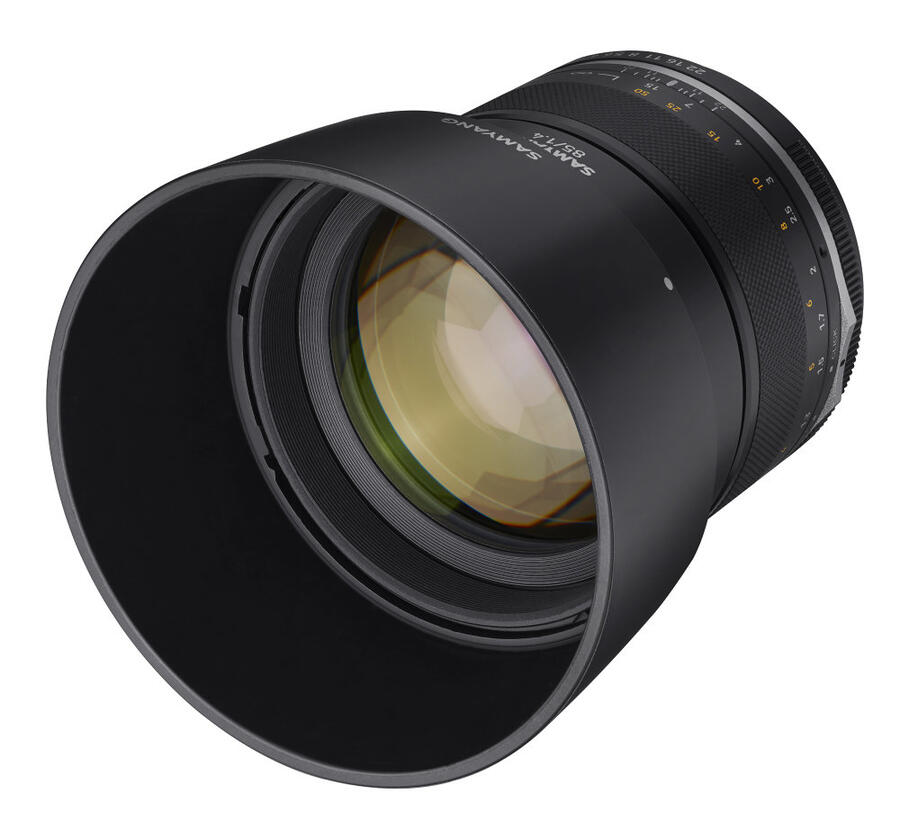 Samyang MF 14mm f/2.8 MK2 Lens:
Enjoy the enhanced usability and product design of the updated MF 85mm F1.4 MK2. The manual focus 85mm of Samyang has been loved for its expressive portraits. Inheriting the original optical design, 'De-click function' and weather sealing function are added to encourage the ease-of-use when capturing moments of your life.
Samyang 85mm has been one of the most beloved lens from the lineup thanks to its exceptional image quality with expressive characteristics. The new MF 85mm F1.4 MK2 introduces enhanced usability with focus lock and de-click along with weather sealing. The round bokeh and outstanding optical system creates unforgettable images of your loved ones. It is ideal for top quality portraiture and still images with its vivid colors and smooth out-focus quality.
Weather sealing and Updated Design
Environmental seals are located at the lens mount area to prevent infiltration of moisture and/or rain drops. This feature provides an additional layer of protection when shooting outdoors under adverse weather conditions. MF 14mm F2.8 MK2 has the new micro patterned rubber focus ring to lower the contamination and increase the grip. Also the rotation angle of focus ring is now changed to support faster adjustment. The product design is updated with new components and fonts to convey sophisticated and modern look.
See more at Samyang Global pages : MF 85mm f/1.4 MK2 & MF 14mm f/2.8 MK2.