Ricoh announced two new Pentax lenses, roadmap and a few details on the upcoming flagship Pentax APS-C DSLR camera. In a video published on Youtube, Ricoh has announced details of its upcoming flagship Pentax APS-C DSLR and reveals D FA 21mm Limited, DA 16-50mm F2.8 and details D FA* 85mm F1.4 lenses.
The camera is currently 'under development for market launch in 2020'. Ricoh says that despite the coronavirus delaying the introduction of the camera, the company hopes that it will still ship on schedule by the end of the year.
Ricoh claims that autofocus subject tracking has been improved, without providing further detail. A battery grip will be available for the camera, which will share the same dials and AF joystick as the body.
Large 1.05x magnification optical viewfinder
The camera design is said to follow the K-1 design style
Improved AF performance, with improved AF tracking
Improved drive control
New battery grip shown
Release date schedule by the end of 2020
Updated Pentax K-mount lens roadmap (May 2020):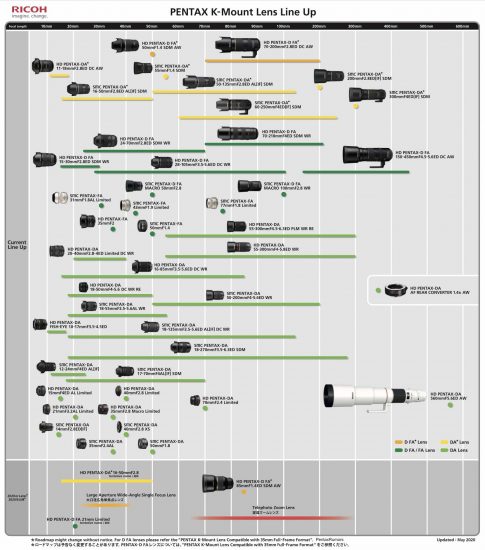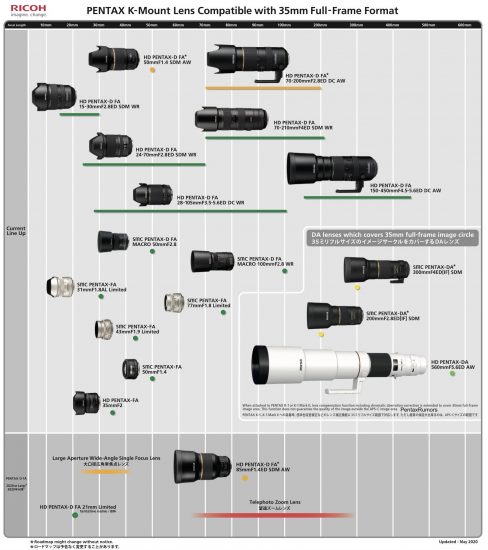 See the video below:
Check out the Pentax Flagship APS-C DSLR Camera dveelopment announcement.