Yongnuo has announced two new products: the EF-E II Adapter for Sony E-mount cameras and the YN560TX Pro TTL flash.
The new adapter is available to purchase from online retailers now for $99.99 USD, but the YN560TX Pro flash won't be available to buy until some time in June.No pricing information for the YN560TX Pro TTL flash is currently available.
The Yongnuo EF-E II adapter lets you use EF/EF-S lenses on Sony E-mount  cameras. This model supports AF and mixed-focus systems, and also offers a function key, USB interface (for firmware updates) and a 1/4-in screw hole for tripods.
Allows EF/EF-S series lens or lens to be compatible with E mount Camera.

Equipped with USB interface to improve product performance, supports firmware upgrade and lens data analysis through USB.

2 Focus Systems- With focusing system selection switch, support AF focus system and Mixed-focus system, both focusing systems require camera support for normal use.

Equipped with Fn function keys, it is possible to achieve more practical functions in the future. Please pay attention to the offical announcement from to get the latest information.

With 1/4 inch screw hole at the bottom can be installed on the tripod or other fixed bracket easily.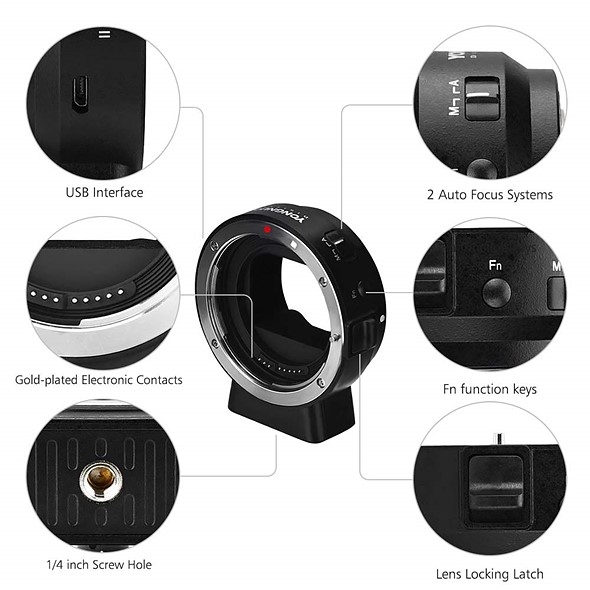 Yongnuo YN560TX Pro TTL flash
The YN560TX Pro is a new generation of flash signal transmitters that integrates two radio systems, the YN560TX and YN622
The protocol is cross-brand compatible, and one receiving end can receive signals from any C/N/S hot shoe launcher;
Full support for flash mode, focus control, high-speed synchronization and other functions such as GR/TTL/M/Multi;
YN622 product line (such as YN968C/N, YN685, YN622 II) 560RX mode after upgrading firmware can receive YN560TX Pro (C/N/S) signal;
RF603, YN560 III/IV, YN660, YN860 series can directly receive YN560TX Pro signal. YN200 Yongnuo high-power lithium battery outside lamp: Built-in integrated next-generation radio system, can receive the control signal of YN560TX Pro (C/N/S) any hot shoe launcher, support TTL/M/Multi flash mode and high-speed synchronization. It is also compatible with transmitters such as RF603/YN560TX (II).
Stay with us on Facebook, Twitter, RSS feed to get more news, rumors, reviews and deals. Read more Sony Mirrorless news and Sony Rumors here.
Also join the Sony Camera Users Facebook Group to share your Sony photography.