Irix have announced a new Cine lens, the 45mm T1.5, which will be the third full-frame cine lens suitable for shooting with 8K Ultra HD cameras from Irix.
The new lens is designed for shooting with Ultra HD 8K cinema cameras and is based on a completely new optical design which includes four elements made of high refraction glass, one extra-low dispersion lens and one aspherical lens.
Irix Cine 45mm T1.5 lens key features
Mid-range focal length with field of view 51,4°
Suitable for shooting with Ultra HD 8K resolution cameras
High-quality optical elements – 11 elements in 9 groups. HR, XLD, ASP produced in Japan
High maximum transmittance value of T1.5 up to T22
Standardized 0.8 Pitch Mod Cine Gears
Very low distortion -0.5%
Sealed construction prepared for all weather conditions
Compatibility with standard follow-focus systems and lens control motors
Front filter thread size 86 x 1.0 mm
Standard 95mm front diameter for cine accessories
Equipped with a support foot
Irix Magnetic Mount System
Focus scale available in metric or imperial units
Laser engraved markings filled with UV paint
Durable magnesium-aluminum alloy
Weight 1.1 kilograms / 2.42lbs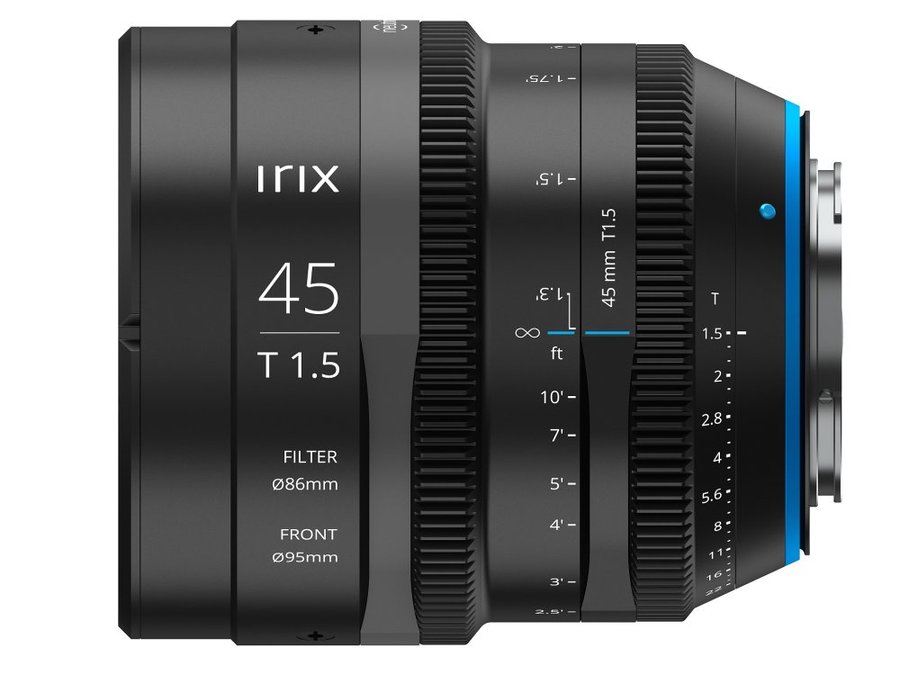 From Irix:
11 elements in 9 groups deliver crisp details, vibrant colors and an ultra-low – 0,5% distortion. The circular 9-blade iris ensures a pleasant background blur and a smooth adjustment of the T-number from 1.5 to 22. With practically no focus breathing, the Irix Cine 45mm T1.5 is the perfect lens for filming scenes with a natural character.
Irix Cinematic Design
The 45mm T1.5 is the third lens in the Irix Cine line which stands for a perfect combination of advanced technology and modern design. A good example of the Irix smart design is the front housing element which has a diameter of 95mm and a built-in 86mm filter thread. It also provides a magnetic mount for the reversible lens hood and for future Irix Cine accessories.
This synergy is also visible in the shape of the geared rings which have been integrated into the lens housing. The convenience of operating by hand and full compatibility with follow focus systems was a priority in the external design of the lens. You can use any follow focus system you like and position it wherever you want to thanks to a special rotating adaptive ring design. The adaptive ring can be adjusted to any desired position and expose the geared ring to couple with follow focus systems.
Ready to shoot in any weather conditions
A high-class cinematic lens must work in any atmospheric condition. No matter if you are shooting on burning sand in the Sahara Desert or on the frozen peaks of the Himalayas – the Irix 45mm T1.5 is prepared to not only face it, but also to capture the best image possible. Every time. Enjoy your lens' reliable construction with rubber seals placed in all the crucial points to ensure protection against rain or dust. Now, you can film anytime, anywhere – and seize the wondrous power of nature.
Your comfort is important! Focus and aperture marks are laser engraved and filled with UV paint. This makes them visible, even in low-light environments.
Versatility and compact in size
Irix Cine lenses are some of the most compact and lightest film lenses covering the full-frame format. The housing is made of a lightweight and impact-resistant aluminum-magnesium alloy which has been successfully used and tested in the Irix Blackstone still lenses. Thanks to the low weight (every Irix Cine lens weighs about 1.1 kilograms / 2,4lbs), they can be used on smaller cameras on handheld rigs or stabilizers as well as on professional setups. In order to achieve greater comfort while working with follow focus systems, the Irix Cine lenses are equipped with a lens support foot. Depending on your needs, this support foot can be attached to the lower or upper part of the lens.