DXOMark just published their review of the sensor inside the Sony a9II. According to test results Sony a9 II achieves an overall DXOMark score of 93, which puts it the 21st place in full-frame and MF sensors.
This is one point above original a9. Compared Canon EOS-1D X Mark II and Nikon D5, a9 II is about 5 point above these cameras.
The new Sony a9 II pro-level full frame mirrorless camera is in stock at Amazon and it will soon be in stock at B&H and Adorama. See the Sony a9 II compared to other related cameras: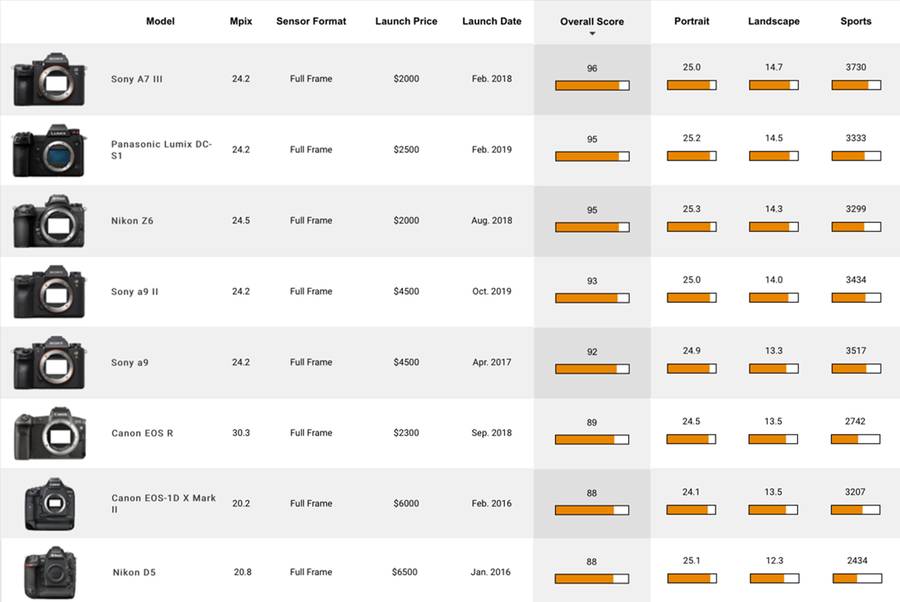 Conclusions from DxOMark:
Sony says that the a9 II has the same sensor as the original a9, but as we've seen the new model adopts a different approach to processing, using a change in sensitivity behavior both to improve color discrimination and to widen dynamic range at higher ISOs. It's the first time we've seen this and it marks a shift in strategy for Sony. The Sony a9 II is certainly a niche camera, built to compete alongside the Canon EOS-1 DX Mark II and Nikon D5. However, while it's unlikely that individual photographers or agencies would switch from those rival cameras, bearing in mind their investment in lenses, the Sony a9 II's high sensor performance and lower price would be tempting for newcomers thinking of entering the competitive field of sports journalism.
More Sony A9 II Hands-on Videos
Key Features
Read more: Best Lenses for Sony a9 II and Best Memory Cards for Sony a9 II.
Also join the Sony Camera Users Facebook Group to share your Sony  photography 
Read more Sony Camera Rumors here.