Sony unveiled the details of a new 47MP MFT sensor that can shoot 8K video at 30fps.
Sony's new IMX492 is a diagonal 23.1mm CMOS image sensor with a colour square pixel array. The multi-aspect sensor will capture 41-megapixel resolution in 4:3 mode or 35 megapixels in 17:9. The new Sony sensor records 8K video in 30p in 17:9 mode, and in 4:3 mode this drops to 25p.
The Sony IMX492 also offers 2.315μm pixel size for both the Bayer and Monochrome sensor version. No further details were provided as to availability and when we may start seeing it in cameras.
This kind of resolution for a MFT sensor is definitely huge and probably for high-end video-centric Micro Four Thirds system cameras. The new image sensor (model name IMX492LQJ) might actually show up in the successor to the Panasonic GH5S which could be named as Panasonic GH6 or the Olympus E-M1 III.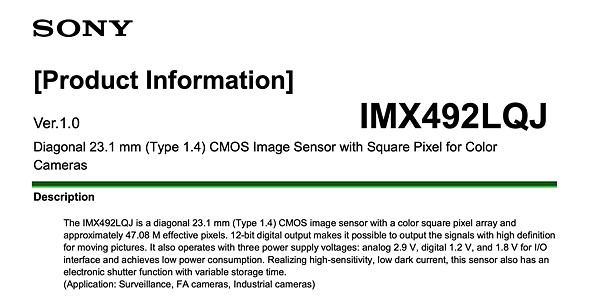 Sony 47MP MFT Sensor that Can Shoot 8K/30p Video
CMOS active pixel type pixels
Input clock frequency 6 to 27 MHz (CSI-2), 72 MHz (SLVS-EC)
Both MIPI Specifications (CSI-2 high-speed serial interface) and SLVS-EC interface supported
Multi-Aspect (All pixel, approx. 17:9 and 4:3)
Readout modeAll-pixel mode (Type 1.4)Aspect ratio approx. 17:98192 (H) × 4320 (V) (Type 4/3)Aspect ratio 4:3 7408 (H) × 5556 (V) (Type 4/3)
High-sensitivity, low dark current, no smear, excellent anti-blooming characteristics
Vertical and horizontal arbitrary cropping function
Variable-speed shutter function (minimum unit: 1 horizontal period)
Low power consumption
High dynamic range (HDR) function (only 4k mode, refer to Application Note)
H driver, V driver and serial communication circuit on chip
CDS / PGA on chip: Gain +27 dB (step pitch 0.1 dB)
10-bit / 12-bit A/D conversion on chip
All-pixel simultaneous reset supported
248-pin high-precision ceramic package
Recommended lens F number: 2.8 or more (Close side)
Recommended exit pupil distance: –100 mm to –∞